Measuring chain (brand HBM)
For analysis of constraint.
1 to 100 channels.
Connections:
* 1 / 4 to full deck.
* Analog 0/10Vcc and 4-20mA.
* PT100 speed ... ..
Rental per day or per week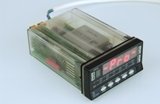 ALPHA C
Conditioner sensor bridge gauges.
Analog Output: 0/10Vcc or 4-20mA.
Thresholds-tare memory peak-32Pts Linearization
Output RS232-RS485
220VAC or voltage 24Vdc
Functions: PT100 ....
OMM010 (signal converter)
Ampli 0 / 5 or 0/10Vcc for bridge sensor gauges.
Access to the settings of zero and gain.
Connection between sensor and amp connector.
Output amp long cable of 1 meter